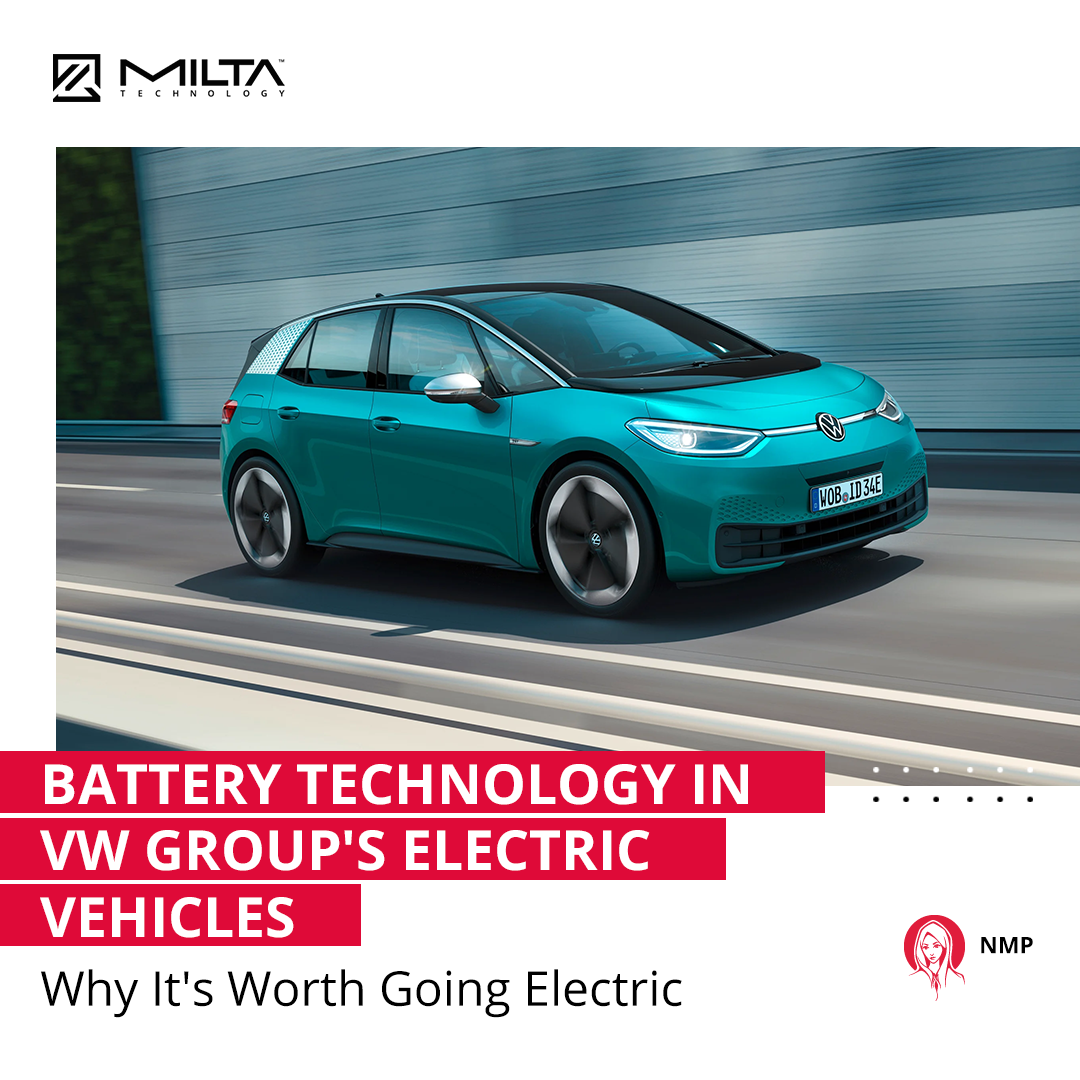 Battery Technology in VW Group's Electric Vehicles: Why It's Worth Going Electric
The pressure to make the switch to an electric car seems to be growing by the day. The government's 2030 moratorium on new petrol and diesel car sales is creeping ever closer, and while that doesn't mean we can't keep driving existing internal combustion engine vehicles after the deadline, there'll be no more new ones to look forward to in the UK.

So, those of us wanting the latest thing after 2030 will have to go electric. For fans of the Volkswagen brand, the range currently includes the following choices:
VW ID.3 hatchback
VW ID.4 SUV
VW ID.5 and ID.5 GTX (coming soon)
VW e-Golf
VW e-up! hatchback
VW ID.Buzz electric van
…and more concepts coming every year
And these are just the ones bearing the VW badge. As you are undoubtedly aware, the VW-owned brand range also includes Audi with its e-tron EVs, as well as Porsche with its new all-electric Taycan, and more. In today's blog, we first want to explore the battery technology that is being used by the VW Group, before then considering how it all helps make it worthwhile going electric sooner rather than later.
/


VW Group Battery Technology

As of December 2021, the Volkswagen Group (VAG) has partnered up with three different companies to further and expand its battery technology development in the coming years. These enterprises are: Umicore, 24M Technologies, and Vulcan Energy Resources Ltd. The purpose of these partnerships is to strengthen, standardise, and industrialise global battery production to more sustainable levels.

To further prove its commitment to battery technology, VAG-owned Audi also announced even earlier — March 2021 — that they had put an end to the development of any new combustion engine technology and were now focused entirely on the development of EV batteries. The main rival it currently faces up against is none other than Tesla, which at the time of writing not only has more cost-effective and longer-range batteries, but also has invested many billions into production in the form of its Gigafactory network. VAG still has a lot to do to catch up, but is hot on their trail.

That same March 2021 announcement came on a day VW dubbed "Power Day," and also included the group's unveiling of what they call "unified prismatic cell design" in VW battery technology. These will be used from 2023, and the plan is to have them powering 80 percent of VW's electric vehicles by 2030.

As for cost, VAG hopes that the development will push costs under the $100 per kWh threshold, which is internationally accepted as the required cost to make EVs about the same price as petrol/diesel cars now. To put things in perspective, those costs have already come down a great deal, from $1,100 per kWh in 2010, to just $156 per kWh in 2019, but still they need to come under $100 for proper commercial viability.

Current Range: Battery Sizes and Specifications
Within the current VW range, you'll find battery sizes ranging from 45 kWh to 77 kWh. The longest range currently offered from the 77 kWh has been 341 miles, but with average ranges on most purchased VW models falling between 200 and 300 miles of range, given that not everyone opts for the largest battery for different reasons.

The batteries are mounted between the front and rear axles at the lowest-possible point, which is extremely useful in providing a more even weight distribution. Where so many modern cars are front-heavy because of the engine bay, EVs like those in the VAG family enjoy a more even balance, not to mention a great and low centre of gravity. All of this contributes to better handling.

These battery systems are currently manufactured at VW's plant in Braunschweig, but the group maintains partnerships with other global factories in China, the US, and Czechia to maintain supply and meet demand.
/


Reasons to Switch to Electric Sooner Rather than Later

Range Anxiety is Dying
Back in 2010 when mass-produced full battery electric vehicles were first rolling off the production lines, they only offered a maximum range of 80-100 miles at the very best. These cars were never going to slake the thirst of the majority of drivers in Britain, who were worried that low-range electric vehicles would simply end up stranded with no hope of rescue except a friendly tow truck.
In fact, even these early models did suit the everyday needs of most people, but it's only now that companies like VW are developing truly viable long-range alternatives that people can take these cars more seriously. With the range of cars like the ID.4 and ID.3 fast catching up with the standard range of a full tank of petrol or diesel, people are now starting to see that an EV is workable in their everyday lives. It's also helped by the fact that more and more people are seeing public chargers popping up in their area, and are discovering that they can install their very own charger at home.

EVs Can Be More Fun to Drive
Have you seen the 0-60mph ratings for some of these electric cars? There are some that can launch from 0 to 60mph in less than 3-4 seconds, which is akin to some kind of Italian supercar that costs more than your house! The reason for these great performance realities is that in an electric car, you can deliver instant torque to the wheels, thus offering much faster, more fun and dynamic driving.

Free Yourself from the Petrol Station
As we touched on in our first point, switching to a car like the ID.3 or e-Golf allows you to forgo any trips to the petrol station in the future — to buy petrol or diesel, at least. No more will you have to queue up behind people who can't figure out the pump, or who decide to do their weekly shop in the station after filling up. Instead, you can charge at home at your leisure, or by leaving it plugged into a public charger while you're at work, whatever suits you best.

Contribute to a Better Britain
Finally, another great reason to make the switch to EVs sooner rather than later is that you'll be making a contribution to making Britain a better place to live: cleaner air, quieter city streets and motorways, and less reliance on fossil fuels. What's more, in times like this where international events are causing fuel prices to skyrocket, many people are wishing they'd invested in an EV that wouldn't depend on petrol or diesel at all!