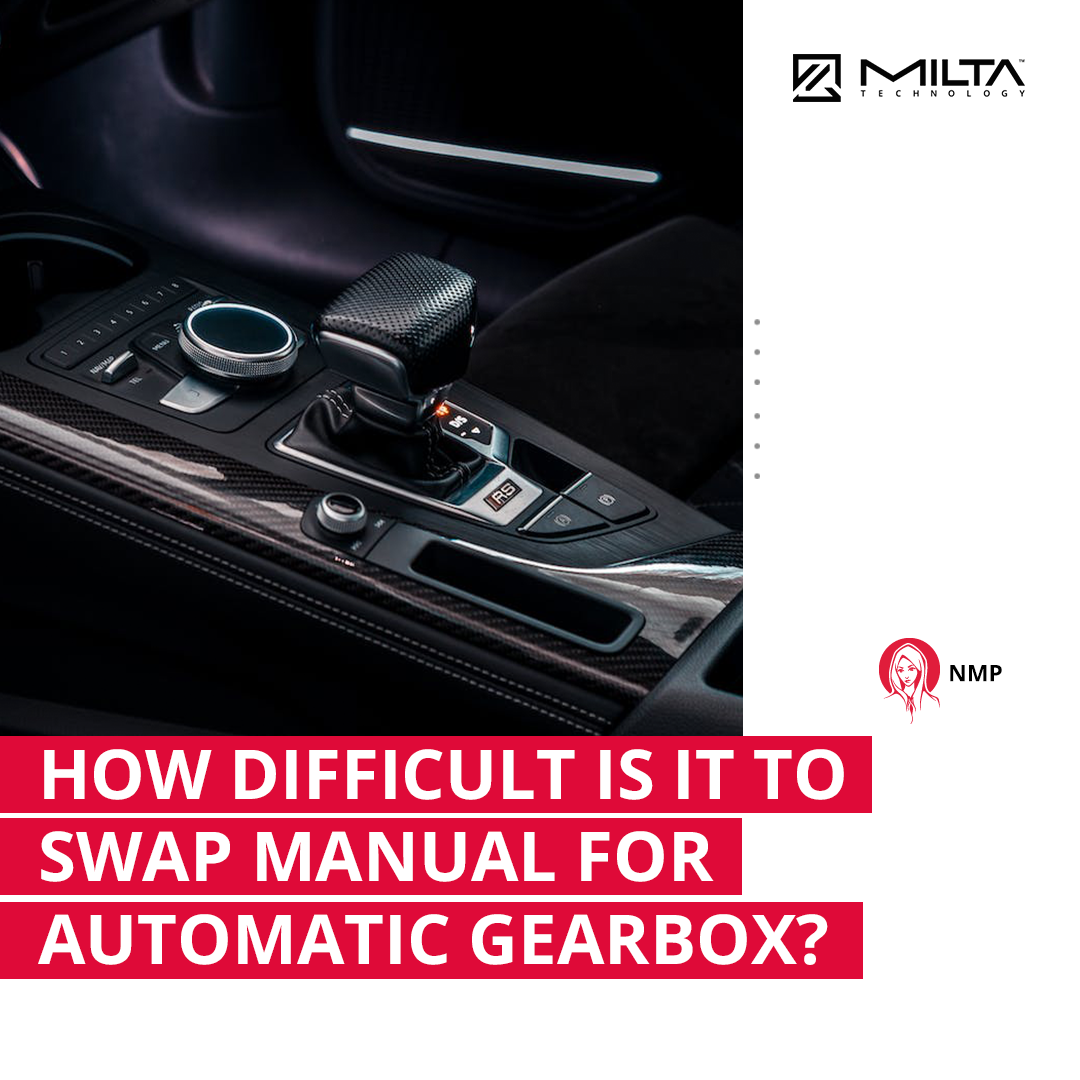 How Difficult Is It to Swap Manual for Automatic Gearbox?
While the UK has long been a bastion of supporters of the traditional manual gearbox, opinion is fast changing. In just the last few years, there has been a totally unprecedented shift in driving habits toward choosing automatic cars over manual ones. But why? In short, improving technology, lowering prices, and better performance and reliability have helped close the perceived gap between the two, and automatics are no longer seen as simply the choice of elderly or lazy drivers.

In today's blog, we want to explore one particularly interesting aspect of the shift from manual to automatic, and that is those who elect to shift from one to the other through mechanical modification. Can it be done? Can you have a mechanic change your manual car into an automatic one, or even try it yourself? If so, how difficult is it to make the swap? These questions and more we will try to answer below.
/


Can I Swap My Manual Gearbox for an Automatic Gearbox?


Let's start by answering the most fundamental question: can it even be done? The answer is yes, you absolutely can swap your manual gearbox for an automatic one if you so desire. It does take a number of specialist tools and pieces of equipment, as well as a very skilled and experienced mechanic/technician to get the job done, but it can be done.

It's actually an increasingly common occurrence among drivers who wish to have certain models of car from a particular year or manufacturer but where automatics weren't an option at the time. It's really not just a question of yanking out one component and then plugging in another, unfortunately. The transmission is intricately connected to much of the rest of the car, so the process can be quite complex.
/


How Can It Be Done? How Difficult Is It?


This brings us to our core question of difficulty. As we touched upon in the previous section, it's not a process that just anyone with a screwdriver and a wrench can achieve, but a skilled mechanic should be able to get the job done in 24 hours at a fast pace, or 48-72 hours at a more regular pace. Which of those speeds you get will depend entirely on a particular mechanic's experience doing the work, and their service offering.

Arguably the most difficult part of all is dealing with the amount of electrical wiring involved, not to mention integration of the electrical control system (ECU). The mechanical parts of the operation can be learned and visualised by good mechanics, but whether or not they have the proper electrical expertise is another question altogether. The fact is that this is a job of precision, which means it's only "easy" to those who know exactly what they're doing. For this reason, it's often best to work with mechanics who are familiar with both manual and automatic versions of the car brand and model you are driving and/or converting.
/


Other Considerations


Let's say you make the decision, as many are doing, to swap out your old manual for a newer automatic transmission. We think you're making a good choice, as it happens, so long as you first and foremost ensure that you find a skilled, qualified mechanic or technician to do the work for you, and that you have properly budgeted for the work based on their estimate.

As we mentioned in the above sections, this must be the first consideration you make. However, there are a number of other important factors to think about as well.

Fuel Economy

Making the switch to an automatic gearbox, almost regardless of what type you switch to, will most likely reduce your overall fuel economy. With the exception of some advanced units like VW's direct shift gearbox (DSG) dual-clutch systems, which can just about match or even slightly better some manual ratings, there's virtually no automatic gearbox that will deliver as good a fuel economy as a manual. That's just a mechanical fact.

So, if your manual fuel economy is a key factor that makes your car affordable or desirable, perhaps think twice about making the switch. If you're prepared to take a hit on the economy, then you can give yourself the green light.

Driving Style

How attached are you to the more dynamic, fast-paced gear-shifting nature of your manual car? If it means a lot to you, then you should perhaps consider refraining from making the switch. In the majority of cases, switching to automatic will mean a slower — but much smoother — gear-shifting style. It might take some of the oomph out of your typical acceleration pattern, and make passing on the motorway or on A-roads a little more difficult at times.

Having said that, as we mentioned in the previous point, there are high-performance automatic options if you're willing to invest the money, such as a DCT. These are now so dynamic and efficient, that even top sports car makers are using them instead of manuals.

Future-Proofing

What kind of automatic transmission are you considering for your car? If the car is likely only going to be used for a handful more years, then investing in a simple torque converter to replace the manual gearbox will certainly suffice. However, if the car is going to serve you for many more years to come — say more than 6 years — then you should really consider investing in something more substantial and future-proofed.

Installing a DCT, for instance, would bring the car vastly up to date, and make it more of a cutting-edge vehicle for years to come. If not a DCT, then a more recent and contemporary style of torque converter, or even a CVT might be worth thinking about rather than just any old cheap unit. It's going to be an investment that likely goes into the thousands of pounds, so why not look into getting something that makes that investment really worthwhile?

Before you consider anything else, however, remember first to consult with your mechanic and gauge whether their experience and skill level are enough to get the job done well. The worst thing you can do is enlist a cowboy!