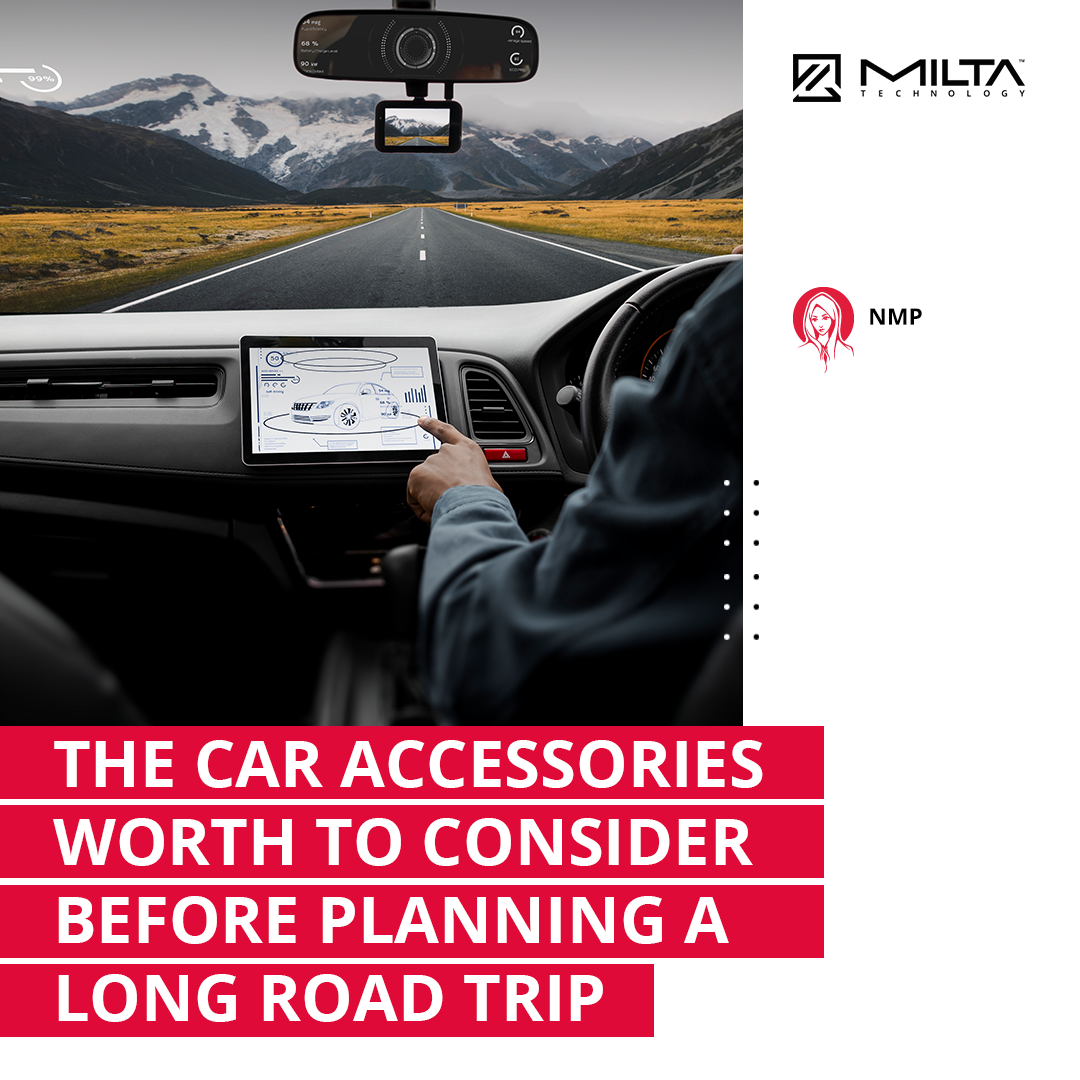 Car Accessories Worth Considering Before a Long Road Trip
With the summer holidays fast approaching, you might well be already planning your family's next UK or European road trip. You could be driving to the Scottish Highlands or to the French Riviera — it makes no difference — there are key accessories that you should keep in the car to make the road trip easier, and even safer.

The possible list of accessories could go on seemingly forever, but we've put together a list of high-priority car accessories that we feel are the most worth considering when you're planning any long road trip.

1. A Smartphone Cradle/Mount
A lot of modern cars have navigation systems built into their infotainment function. You can also access these functions by connecting your smartphone to the infotainment system via Apple CarPlay or Android Auto. However, running navigation through the infotainment screen still means the directions are a bit far from your regular eye line.

A smartphone cradle or other mount that you can put right on your dashboard is the safest way to give yourself navigation function. Once mounted, the screen is closer to your eye line, thus you don't have to look away from the road for very long at all to confirm where you're going. This is an ideal solution for older cars that have either no infotainment screen, or a screen placed lower down in the centre stack.

2. Power Banks
A power bank is like a portable battery that you can use to charge up your devices when no regular plug-in source is available. We say power banks, plural, because nowadays just about every passenger is bound to have at least one electronic device that they're travelling with: smartphone, tablet, laptop, gaming device, and more.

Cars have limited USB points, so having some spare power banks on hand just in case will be very useful. Keeping one ready for emergencies is also a good idea.

3. Roof Cargo Box
Instead of filling up your boot, floor and seat pockets with all your holiday gear, why not keep the interior space clean and clear by using a roof cargo box? If your car is suitable for installation, such a box can see anything you don't need in the car with you placed on the roof out of the way. This frees up more cargo space for essentials, or at least leaves more space inside, making it more comfortable and less claustrophobic.

4. USB Adapter (for older cars)
Most new cars come with at least 2 USB ports in them, but older cars might not. If you don't have a USB point, but you do have a power socket, then you're in luck. You can purchase special USB adapters which you can plug right into the power socket, providing you with 2 functioning USB ports. It's small, affordable, and requires zero technical knowledge to install. It's plug and play, and helps bring your car forward to the 21st century.

5. Rear Seat Organisers
Kids often like to take a lot of things with them into the car to help them stay distracted for the long journey ahead. That can mean a great deal of clutter accumulating on the back seat. One way to combat this problem is with a rear seat organiser. These hang off the head rests of the driver and front passenger's seats, and provide multiple pockets and storage areas, with some even offering tray tables on which kids can put their tablet or other items.

One of these for each of your rear passengers will help keep all your kids' belongings in good order, and probably prevent unwanted accidents like things being dropped on the floor and the trodden on!

6. Travel Pillows
Getting to sleep on a long car journey is hard enough, but that feeling when you do get a couple of hours sleep only to wake with neck pain makes the entire thing even more unpleasant. Travel pillows are simple accessories that will allow your passengers to rest their head and neck comfortably while they sleep in the car. It can lead to longer, more peaceful and healthy sleep, something that is especially useful when you have young kids who will otherwise get cranky.

7. Dashcam
A long road trip invariably means travelling to unfamiliar places. When you're driving on roads with which you are unfamiliar, your chances of something going wrong are increased somewhat. To protect yourself against liabilities, it can be a good idea to have a dashcam installed to monitor in front of you as you navigate your way around.

Those who live in villages and small towns may also be unaware of the types of scams that can occur in larger conurbations where people try to make it look as though you have hit them with your car in order to claim compensation. A dashcam will help you sort out any such problems.

8. First-Aid Kit
The First-Aid kit is one of those things that you definitely want to have handy in the car but that you also hopefully won't need at any point. Ensure your health kit has bandages, plasters, antiseptic, gauze pads, safety pins, a sam splint and a tourniquet. You should also keep any medications that you or your family might need somewhere close at hand and within easy reach.

9. Tyre Repair Kit
Another emergency accessory to keep in your car is a tyre repair kit. These are now quite ubiquitous and come with most new cars in lieu of a spare tyre. However, if you've used yours or you can find a better one that's easier to use, then load it up into the boot. These kits allow you to repair a tyre well enough to keep driving on it even when punctured, which means you can get to a garage safely and have the tyre replaced.

10. Steering Wheel Tray
Finally, something else for the driver. A steering wheel tray allows the driver to hang a tray table from the steering wheel, creating a handy surface on which to eat and drink while they are stopped and taking a break. Making your own food and eating in the car is far cheaper than eating at service stations, of course, but it can get messy if you eat in the car, getting crumbs everywhere and having nowhere to put things. A steering wheel tray will help solve that.