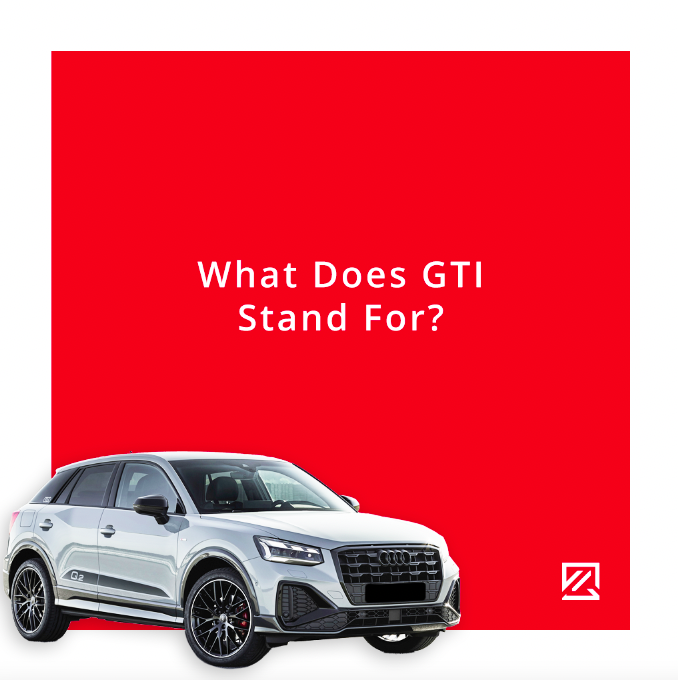 What Does GTI Stand For?
Three magic letters that seem to push the price of any car higher are "GTI." Most people know that GTI has something to do with performance, but if you put them on the spot and ask them about this acronym, they probably can't tell you exactly what it stands for, or can they?

Well, in today's blog we'll be putting you out of your misery and telling you all about these 3 letters, their meaning and why they make such a significant difference to the car. We'll be using VW vehicles such as the Golf GTI as our guiding examples.
/


What Does GTI Stand For?

The letters "GTI" stand for Grand Tourer Injection. The original use stood for the Italian words Gran Turismo Iniezione. The main distinction of a car that carries the GTI acronym within its model/trim name is that it indicates the presence of a direct fuel-injection system. You might wonder about this, thinking that most modern cars have fuel-injection systems, too. The difference is that when the GTI name first emerged, in the VW Golf GTI for example, it was more than 4 decades ago and those systems were rare.

Nowadays, GTI doesn't precisely stand just for the presence of the direct fuel-injection system, otherwise most cars would have the GTI badge. Instead, it has become an indicator that the car in question is of a higher performance standard than the typical base model. For instance, with the VW Golf, you can buy the base-level VW Golf, but you can also spend more money to get the higher-level Golf GTI.
/


Example: VW Golf Life Vs. VW Golf GTI

The two hatchback cars have been popular in the UK and around the world for years now, but what exactly are the differences in the two beyond their apparent sportiness or speed? Let's take a closer look by comparing the base-level Golf Life with the new Golf GTI – both of the below models are from the latest Golf 8 vehicle line:

Engines: The Golf Life gets both petrol and diesel options, with petrol engines either as a 1.0L or 1.5L. The diesel engine on offer is a 2.0 TDI with 113-hp of power. The petrol engines offer up to 108-hp and 148-hp respectively. The Golf GTI, on the other hand, just comes with petrol options, but both 2.0L turbocharged engines, offering up to 242-hp in overall power.

Fuel Consumption: As you might expect, the Golf Life gets a better rating on fuel efficiency overall, but for a high-performance model, the Golf GTI doesn't do badly. The Life gets up to 52.3mpg combined, making it one very efficient vehicle, and especially good for those who endure slower city traffic but also have to cover longer distances from time to time. The GTI manages 38.2mpg, which is still better than a lot of "economy" saloon cars.

Emissions: It won't come as a surprise either that the GTI gives off more emissions at 169g/km, compared to just 123g/km from the Life.

Features: The GTI comes with larger tires and alloy wheels, and has more added features as standard such as ambient lighting, 3-zone climate control, electric folding mirrors, and ADAS features. The latter includes Dynamic Light Assist for high beams, lane assist, traffic jam assist and others.

Styling: Some exterior styling features unique to the GTI include illuminated grille and door handles, LED matrix headlamps, LED rear lights and a sportier overall profile. On the inside, there's Jacara cloth, brushed aluminium finishes on the gearshift and stainless steel on the pedals, sports seats, heated sports steering wheel and more.

Price: Finally, we come to the question of price. There is a pretty big jump from Golf Life to Golf GTI, namely from £23,860 with VAT up to £34,175 with VAT. It should be noted, however, that there are quite a number of other trim levels in between, and Golf buyers have a huge amount of choice. That's to be expected from one of the most popular hatchback models in the world in one of its biggest and most important markets.
/


Is GTI Better?

If your priority when choosing a VW Golf is to get the car with the best performance credentials, then the GTI certainly beats out a lot of the competition within the range. There are two more GTI models in the latest range that do sit at the top of the pile in terms of price and specification, namely the GTI Clubsport and the GTI Clubsport 45. These are priced higher at between £37,000 and £41,000.

These higher-level GTI models, as well as the Golf R model, all offer engine power of 298-hp in the Clubsport and 45, and 316-hp in the R model. When they offer the very best of the brand's features and are priced as such, you can get that you're getting the best-possible Golf model in many respects.

Of course, in the end it really depends on your needs as a driver. Do you need the extra horsepower and features that a GTI delivers? Most people don't need that, but they enjoy it all the same and that's why they purchase it. You could argue that those spending a lot of time driving up and down the motorway can make good use of the additional power for overtaking, but mostly people buy for the added luxuries and styling differences. It's a preference.
/


Conclusion: Is GTI a Good Thing? Is it Worth It?

Those drivers who are guided by impossible levels of pragmatism will likely find no value in the GTI additions, and that is fine. GTI sales will typically be driven by car lovers, speed lovers and those who want their Golf to be the most stylish it can be and not just a means to get from A to B. VW is quite generous in its UK offerings mostly because there's room in the market for all these types of drivers.